My Gear
Equipment choice, especially boots & skis, is really a personal choice but for gear geeks here's what I use & can recommend in terms of quality, function, reliability, durability and manufacturer's support etc:
Skis (I'm 175cm tall & weigh 95kg)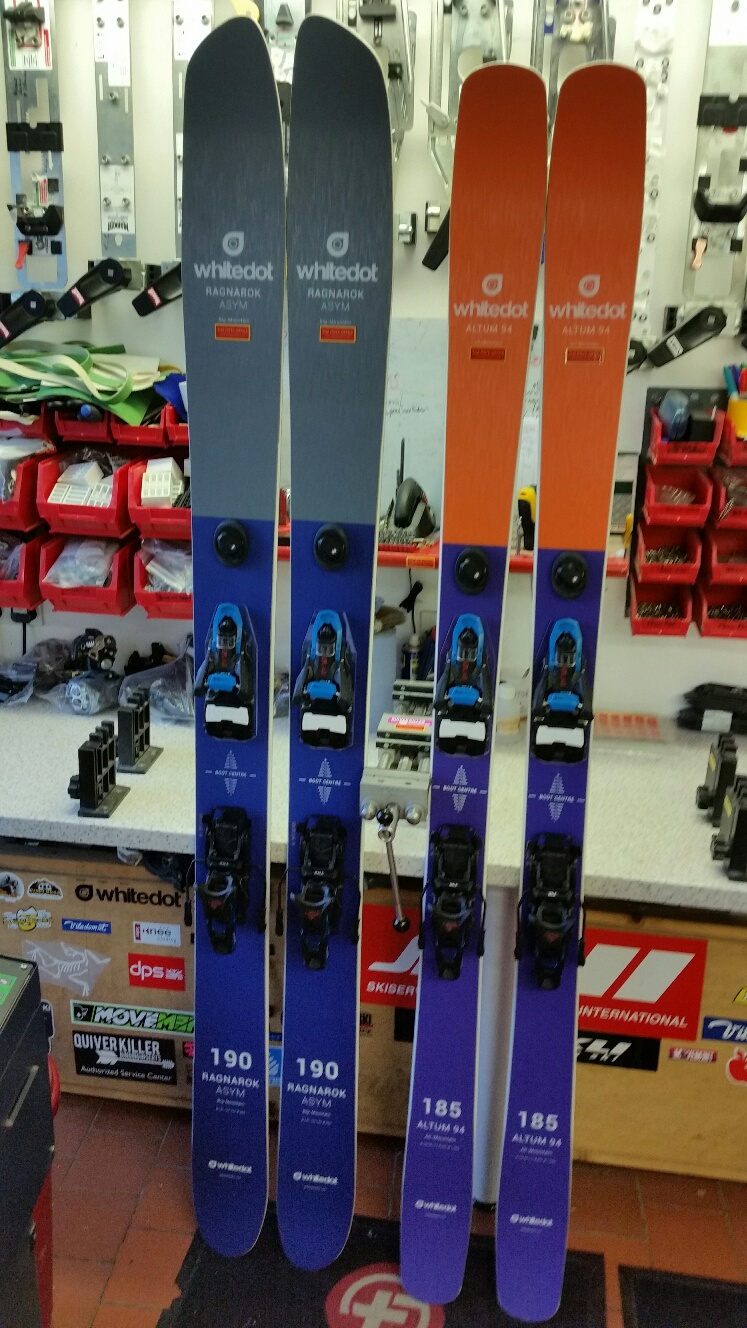 18/19 Whitedot Ragnarok ASYM 190cm

Launched for 18/19 the ASYM model is derived from the previous Ragnarok shape but is a whisker wider underfoot at 122mm and with asymetrical tips to give a short effective edge on the inside ski. And l

ike all the 

Whitedot models it has their superb build quality as well as their distinctive crud busting tip shape.
These are

my 'big day' all mountain/freeride/touring

skis but they're also superb in spring corn. They have 
the latest generation 'trad' lay-up which is light than previous years but with a bit more dampening and their flex is designed to match that of the 17/18 Ragnarok Carbonlite so is perfect. Th
eir light weight, rocker at both ends
with almost no camber & a long radius make them super 
easy to pivot/smear in tight spots, especially for such a big ski. Paul Jamieson, one of the Whitedot owners,
described it as "playful yet serious" which is a perfect description. And
they float like a boat! On firmer stuff the lay-up is as damp as you can get for a ski without a metal layer(s) content however
 on firmer days I'll be
on my Altums. 
Mounted with Salomon Shift bindings on the FR line with Quiver Killer 
inserts
& the toes have been shimmed to give a 2mm delta angle. Edges tuned to 1,3 (=1,87).
 18/19 Whitedot Altum 94 185cm
The Altum 94
 is my go-to everyday all-mountain
ski that's still light enough for skinning to access the good stuff. Whitedots trad (
traditional) construction gives them very good dampening but they're still lively and fun - unlike metal layered skis which may be super damp but then dull. 
The tip rocker makes light work of variable
snow, crud & windslab as well as ensuring that the tips won't dive. 
The
stiffness in the 4mm cambered mid section & high torsional
stiffness gives great
hard snow
edge hold for a ski of this width whilst the
tail shape/rocker can
either lock in to the turn or smeared as required. And their 20m radius gives 
excellent stability on drops & high speed run outs. 
Mounted with Salomon Shift bindings on the line with Quiver Killer
inserts
& the toes have been shimmed to give a 2mm delta angle. 

Edges tuned to 1,3 degrees (=1,87).
Resqski
The above skis are all fitted with the excellent electronic Resqski lost
ski
finder system.
Skins
Colltex Clariden Whizz skins. These skins are a Colltex's superb
mix of 65% mohair/35%
synthetic
super durable skins which are 
excellent in all conditions but with the addition of their acrlyate 'Whizz'
glue meaning that cheat sheets are required. Yes that's right, you
deliberately stick them 'sticky side to sticky side' yet they pull apart with
ease.

No more faffing with cheat sheets on a windy day etc or trying
to pull apart skins that have become accidentally welded together.
Scott Cascade C carbon adjustable length freeride touring poles. 
Great feel/swingweight with a very sturdy/secure locking mechanism plus 
Scott's superb grip/strap & lower grip extension.
The really clever thing
is that they breakdown for easy stowing like a draw-chord avalanche probe.
Harscheisen & Boot Crampons
In additional to my 120mm and 100mm Salomon Shift crampons/harscheisen I also have a pair of Tech 250 boots crampons which lock on/into the toe inserts on my boots. Whilst not as a functional as a full-on boot crampon they're more lightweight/compact (they fit nicely in between my ski crampons so take up no additional space) so are great to put in my bag as a bit of insurance. Check-out: http://www.proguiding.com/tech-crampon.html
Boots
Dynafit Mercury TF with factory liner. Custom footbeds, fitting & alignment shims by the superb Colin Martin & Andi McCann at Solutions4Feet. The downhill performance & walk/tour mode on these boots is superb yet they weigh in at only 1746g each including the footbeds & shims.
Protection
Giro Seam helmet.
Dainese Impact Plus shorts.
Black Diamond Telekneesis knee pads.

Eye Wear
Oakley Flight Deck goggles with Jade Iridium Prizm lenses for mid-bright light.
Oakley Flight Deck goggles Hi Pink lenses for zero vis to low light. 
Oakley are expensive but their lens quality & customer service is second to none.
Backpack
Scott Patrol E1 AP 30 supercapacitor powered avalanche airbag. A superb pack with hassle free flying!
Avalanche Gear
BCA Tracker 2 digital transceiver, Ortovox 240 Light PFA carbon probe & Ortovox Badgar metal shovel. Plus airbag backpack as above. 
Tools
In my backpack I carry a Leatherman 'Wave' tool c/w 'bit kit', a no.2 pozi screwdriver (for my Quiver Killer binding screws) my binding de-icing tool (see: http://www.thepisteoffice.com/index.php/2013-09-09-17-07-34/touring-binding-de-icing.html) plus a mini alu-oxide stone. Back at the chalet I have a tuppaware box containing all the bits you'd expect a tuning geek to carry!
Clothing 
Arc'teryx Rush hard shell jacket in Goretex Pro Shell fabric. Simply the mutts nuts.
Arc'teryx Stinger hard shell pants in Goretex Pro Shell fabric. As above!
Thorlos Thermolite eXtreme Level 1 ski socks. 
Patagonia Capilene 2 capri length base layer leggings.
Embers Merino long sleeve base layer tops (equal/better than the top brands but sensible money).
Arc'teryx Delta LT zip neck lightweight mid-layer.
Arc'teryx Atom LT mid-layer gillet/vest. I wear this all year round, often as top layer.
Arc'teryx Atom LT mid-layer jacket. I wear this all year round, often as a top layer.
Arc'teryx Lorum half zip midweight mid-layer. 
Arc'teryx Thorium AR down mid-layer/jacket.
Oakley Factory Pilot MTB gloves for down to about -8C after that my Kinco 901 gloves come out of my backpack. 
Boot/Glove Dryers
Lenz electric warmers. A brilliant piece of kit!
Luggage
S&R Deluxe wheelie holdall c/w boot compartment at each end. I've removed the metal retractable handle to reduce weight.
Nevisport double ski bag. Easily holds either two pairs of flat packed Quiver Killer'd skis & my bindings or three pairs of flat packed Quiver Killer'd ski (with my bindings in my hold luggage) plus my poles, shovel, probe & tuning kit - with either option weighing in the low cost airlines weight allowance.